Defending the Duo: The Cello and the Nightingale | Blogs
---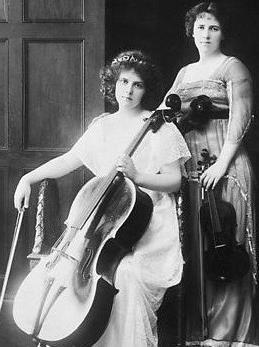 On April 9, 2022, the Guardian published an article under the title, The Cello and the Nightingale: 1924 duet was faked, BBC admits, after years of suspicion. He then claimed that the BBC acknowledged the duo had been faked using an impressionist bird. The BBC said the 'true story' would be explored in a BBC Radio 3 program private passions April 17.
As the editor of the autobiography of the cellist in question, Beatrice Harrison, and author of a radio play based on the famous show, I was very interested to know exactly what the BBC was about. admit.
On 19 April 1924, Beatrice Harrison, already a highly respected cellist, persuaded the BBC to accept an invitation to her Oxted garden to broadcast her performing cello duets with the resident nightingales. It was the BBC's first-ever birdsong show and the unique duet was so popular it became an annual event for the next 12 years. About a million people "listened in" to Beatrice on this historic show and she received thousands of fan letters from around the world. In addition to radio shows, HMV came in and made several 10-inch records by the duo which sold in large numbers.
The story that on this occasion the real nightingale had been replaced by an impressionistic bird was not new. In 1992 the Mail on Sunday published an article in which the descendants of a professional variety entertainer, Maude Gould (also known as Madame Saberon or Sobornoff) claimed that she had been called in by the BBC as a replacement in case the nightingale did not his appearance. This was ruled out by Beatrice's sister, Margaret Harrison, as well as by elderly Laurence Bellingham who, as a child, was present in the garden in 1924, helping to lay cables. He vehemently denied that allegation. He saw no woman hiding in the bushes.
Still, I wanted to know if there was any factual basis for this story after all?
private passions is presented by renowned composer and broadcaster Michael Berkeley, son of composer Sir Lennox Berkeley. This edition featured Professor Tim Birkhead FRS who was found to have made several vague and misguided statements. These included: "research by various colleagues of mine has shown that Maude Gould was employed by the BBC to stand in case the nightingale did not sing."
"I played the recording to good birdwatchers, without telling them why. Half of them said: "yes, it's a nightingale", the other half said: "not sure, something funny in this song". But I'm convinced it was Madame Saberon.
I can imagine a situation in which a frustrated BBC engineer might have had a plan B, but I can't believe BBC founding father John Reith would have tolerated such deception. I'm sure Beatrice and the Harrison family knew nothing about it. Moreover, Béatrice with her musical ear and her familiarity with the nightingales in her garden would certainly have noticed something different in the bird's song. Finally, if the original show was such a nerve-wracking fiasco, why was the initially skeptical BBC ready to repeat it the following week?
To give credence to Professor Birkhead's theory requires evidence in the form of payslips, a contact or a letter from the BBC. Did the program reveal anything like this? He does not have.
Professor Birkhead relied on the opinions of fellow birdwatchers who listened and found something they thought was questionable about the nightingale song they heard. The premise was somewhat marred (as Professor Birkhead has since admitted) by the poor recording played in the program. An undated short recording made at Oxted in the British Library was believed to be the original, but what was played on the private passions program was a record of Beatrice playing the Londonderry Air (with a real nightingale joining) made by HMV in 1927.
Even more erroneous and something that ultimately negates Professor Birkhead's argument is the fact that the undated short recording was also not from 1924. Emeritus cellist and site host www.musicianscience.orgAdrian Bradbury has listened to both and is convinced that they are an excerpt from another HMV disc in which Beatrice plays Dvořák Songs my mother taught me which was made in 1928.
In 1924, almost all shows were broadcast live. Radio recording was still in its infancy. If a repetition of a piece of music or a speech was necessary, it was necessary to start all over again. It is difficult to prove that something does not exist but I am convinced that there is no recording of the original broadcast.
Professor Birkhead quoted Jeremy Mynott's book bird landscapes which also features the story of Maude Gould (whom Mynott first met while reading Richard Mabey Book of the Nightingale). Mynott, listened to what he thought was the original BBC recording and at one point learned from Gould's great-grandson, "that she had been contacted by the BBC as replacement". Mynott wrote that he "had no reason not to believe him" and adds that he had heard the 1927 recording but that "the original BBC recording of the event of April 19, 1924 is quite different and now I'm listening to it again with (the great-grandson) letter in mind, wondering if it's a nightingale at all.
Again, he had not listened to the original broadcast as no recording was found.
What I have a hard time accepting is that a newspaper might headline an unsubstantiated story as "false" simply for the sake of sensationalism, as well as promise revelations that don't materialize. Nor can I agree that Professor Birkhead, Fellow of the Royal Society, (whose motto ironically is nullius orally – don't take their word for it) broadcast to the nation and beyond other unsubstantiated statements based on the words of others that show a complete lack of professional rigor.
The unique duo Cello and the Nightingale are more than just a musician and a bird. It was first broadcast in times of sadness after the Great War, often to lonely people who were uplifted by the unsuspected magic of radio. It was reused during World War II, its springtime melodies symbolizing hope for the future. Hope is something so much needed today in times of conflict (not to mention rapidly declining nightingale populations). What I found saddest though was hearing Michael Berkeley say about the duo, "I'll never listen to it the same way again." That something so beautiful should be torn down so thoughtlessly is hard to forgive.